Machine overview
The machine overview, which automatically shows up after you publish a project, gives you a quick overview of the status of your client machines. You can use this overview to check if your project has successfully been transferred to all selected clients. It also shows the current online status of each client (indicating whether the machine is currently able to communicate with the SiteCaster Server) and if the content is currently shown
(green icon).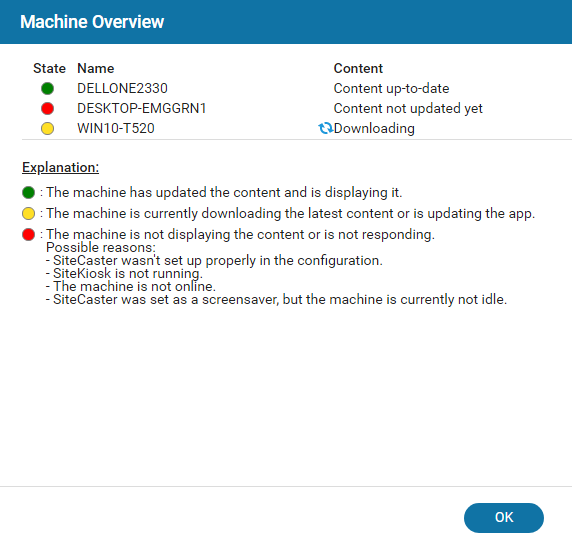 You can access the machine overview three different ways:
With a project opened in the editor, select View - Machine overview from the menu bar.
Using the Details button on the Projects page.
The machine overview is automatically shown after publishing a project.

The machine overview describes the machine status with three colored icons:
Green: The machine has updated the content and is displaying it.
Yellow: The machine is currently downloading the latest content or is updating the app .
Red: The machine is not displaying the content or is not responding.
Please note:
The red icon in the machine overview is displayed for various reasons: SiteCaster wasn't set up properly in the configuration, SiteKiosk is not running, the machine is not online or SiteCaster was set as a screensaver and the machine is currently not idle.


The machines assigned to a project can have three different states:
Content up-to-date: The content was downloaded for the current version.
Content not updated yet

:

The content was not yet downloaded. Make sure SiteCaster is selected in the configuration, SiteKiosk is running and the machine is online.
Downloading

:

The machine is currently downloading the content.
Please note:
It may happen that the message "Content not updatet yet" is displayed for a long time although the machine is online. This can have different reasons: For example, a bad internet connection can cause a slow download or the project contains a lot of data which will cause a long download. Also, an app update to the respective client can lead to a delayed display of the project, because the content is not downloaded until the app is up to date.
---
See also
---
Back To Top